Asset Publisher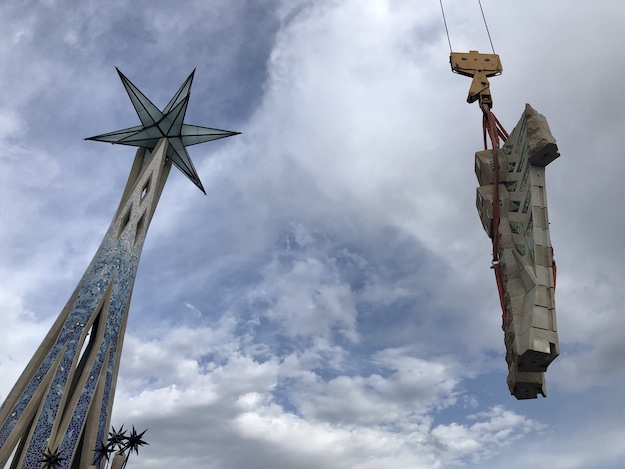 Work began this week to install the panels that will make up the pinnacle of the tower of Luke. It is the first of three levels of tambours, which has the final triangular window on the tower.
Following Gaudí's instructions, the towers of the Evangelists have eight sides in the shape of a parabola up to the base of the pinnacle. From there, the shape continues up as a hyperboloid with superimposed shields or hexagons with the praises "Amen" and "Alelluia", creating recesses and protrusions similar to those on the façade bell towers.
The building system is the same tensioned stone used on the central towers, but without the reinforced concrete structure on the corners. So, the stone panels make up the structure and the pinnacle finishes in herringbone trencadís mosaic, while in the area with the hexagons feature letters of enamelled-ceramic tesserae, trencadís mosaics made from Venetian glass and glass bottles.
Publish Date

7/6/22