Asset Publisher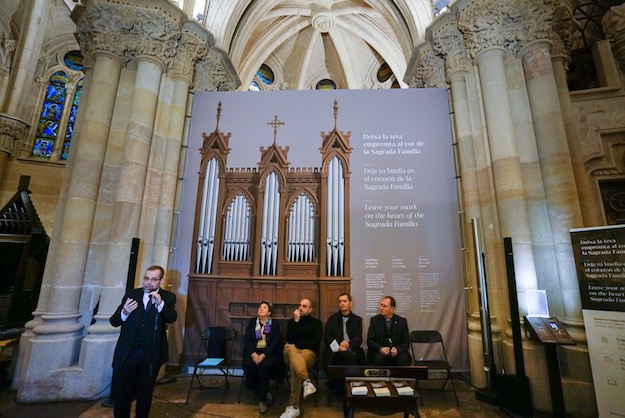 The Sagrada Família parish is launching a fund-raising campaign to cover the cost of restoring and moving the new organ to the crypt. It is a Romantic-style pipe organ built in Paris in 1896, which has been donated by the Society of the Sacred Heart of Jesus, where it was located for the past 125 years.
The campaign was presented today in the crypt with Mn. Ramon Ollé, director of the Archdiocese Office for Social Communications, leading the event. It also featured Jordi Faulí, head architect of the Sagrada Família; Margarita Bofarull, representing the Society of the Sacred Heart of Jesus; Juan de la Rubia, head organist at the Sagrada Família; Albert Blancafort, who restored the organ; and Mn. Turull, rector of the Basilica of the Sagrada Família.
With the slogan "Deixa la teva empremta al cor de la Sagrada Família" (Leave your mark in the heart of the Sagrada Família), the campaign invites everyone to participate in this initiative. Anyone interested in donating can do so in person at the crypt of the Sagrada Família or online at www.orguedelacripta.cat. For contributions of €50 or more, donors will get a certificate and see their name, or the name of the person of their choice, on a commemorative plaque in the crypt. They will also be invited to participate in an event thanking donors, featuring a guided tour of the Sagrada Família, an explanation of the organ and a final concert in the crypt.
The instrument fits in one of the crypt chapels, where Antoni Gaudí rests, and is perfect for the musical accompaniment to mass. In fact, the crypt had a pipe organ for a few years, which was built in Collbató (Barcelona) in 1926 and destroyed shortly after. Since then, it has been without an organ.
Publish Date

12/4/19