Asset Publisher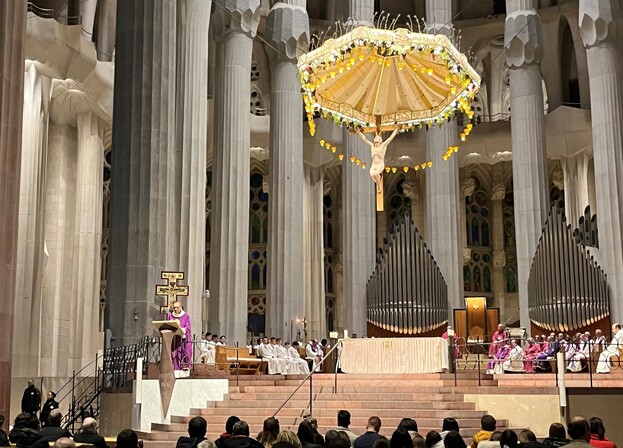 On Sunday 26 February, Cardinal Joan Josep Omella i Omella, Archbishop of Barcelona, led the "Sent la Creu" prayer vigil featuring testimonials and communion, with Auxiliary Bishops Mons. Sergi Gordo and Mons. Javier Vilanova. At this year's event, they prayed especially for peace in Ukraine. It featured the cross of Major Archbishop of Ukraine Sviatoslav Shevchuk, who took part online. Plus, Ukrainian priest and Rector of the Santa Mònica parish Iurii Stasiuk shared his experience from the front lines in his country.
The Ukrainian prelate also answered questions from two young people. He noted the communion of the celebration, explaining it as a "spiritual bridge between Kyiv and Barcelona" and noted that despite the war, "we can find an answer together by contemplating the Lord's cross."
During the homily, Cardinal Joan Josep Omella i Omella shared that the purpose of the event was a desire to be "more united than ever with our brothers and sisters in Ukraine, because they are suffering and are near us in their suffering, as the news shows us" their difficult reality.
Publish Date

2/27/23