Asset Publisher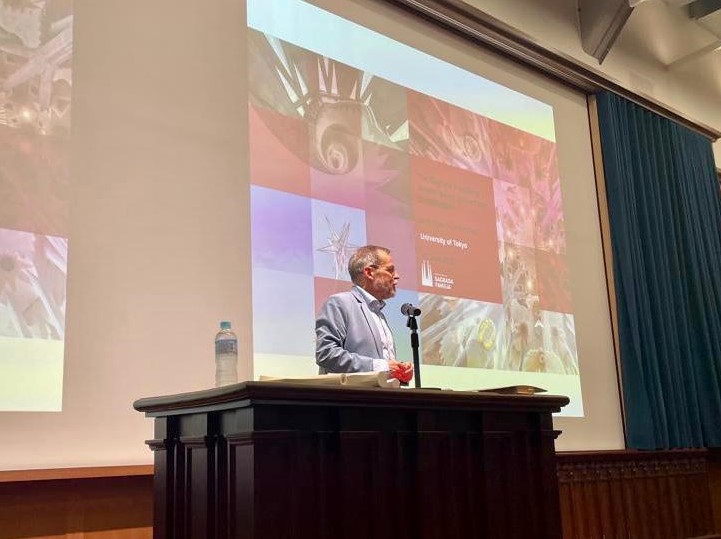 For the travelling exhibition in Japan titled "Gaudí and the Sagrada Família", Mr Jordi Faulí, head architect of the Basilica of the Sagrada Família, gave three conferences on the construction of the Sagrada Família on 13 and 14 June at the MOMAT, University of Tokyo and Tokyo University of the Arts.
As Gaudí predicted, construction of the Sagrada Família has spanned generations. Gaudí was able to complete the Nativity façade and his disciples, the Passion façade. Then came the inner naves and this generation has completed the sacristy and is working to finish the central towers. The last section left to be built is the main façade.
In his conferences, Jordi Faulí explained the symbolism, structure and geometry of the project, and how building the Sagrada Família has always been a challenge. It was for Gaudí, when he was building the pinnacles on the Nativity façade in the 1920s, and it was nine years ago when the plans were made to build the six central towers with stone panels that can support their weight and withstand wind and earthquakes, as regulations require. At the same time, this method opened up the interior of the tower of Jesus Christ and the apse tower, as no horizontal supports were needed, creating captivating 60-metre high ceilings.
The conference at MOMAT on 13 June also featured Etsuro Sotoo, a sculptor who has worked on the Basilica, Japanese architect Tokutoshi Torii and Mr Katsuo Suzuki, MOMAT chief conservator and curator of the exhibition, as the moderator. Etsuro Sotoo explained the doors on the Nativity façade and their symbology, while Tokutoshi Torii highlighted Antoni Gaudí's figurative language and influences, and his strong ties to nature, which have inspired many architects.
To finish off, Jordi Faulí noted that the Sagrada Família is progressing according to the designs Antoni Gaudí left in his instructions and work method, but especially thanks to the hard work, support and contributions of people all over the world.
Publish Date

6/14/23