Asset Publisher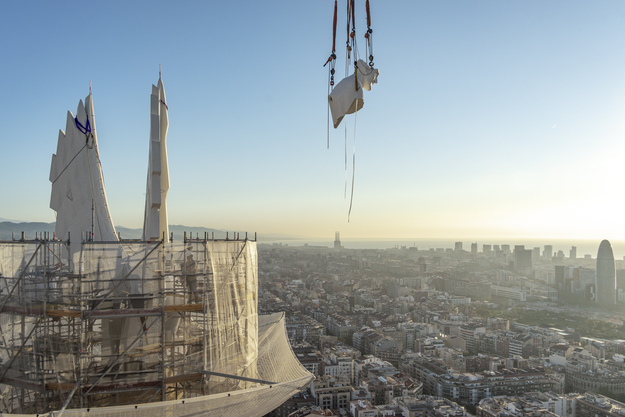 Today the final sculptural piece was put on the tower of the Evangelist Matthew, represented by a human figure, and work will continue tomorrow, crowning the tower of the Evangelist John with the figure of the eagle. The crowning of the towers with the figures of the tetramorph representing Matthew and John completes these two towers and, therefore, the group of the towers of the Evangelists.
The four towers are crowned with the four winged figures of the tetramorph, by sculptor Xavier Medina-Campeny, which Christian iconography has used to represent the men who told the story of Jesus' life. In 2022, the towers of Mark and Luke were crowned with the figures traditionally used to symbolise them: a lion for Mark and an ox for Luke.
As part of the central group of towers, these surround the tower of Jesus Christ, standing 135 metres tall. This makes them the third tallest at the Temple.
Commemoration of the towers of the Evangelists
As announced at a press conference, there will be an inauguration mass on 12 November, kicking off the illumination of the four towers through Christmas. Plus, throughout November there will be cultural events to celebrate this milestone of completing the towers of the Evangelists with the people.
Publish Date

9/27/23