Asset Publisher
Sagrada Família tribute to the institutions that have supported families affected by the socio-economic fallout of COVID-19
Càritas, Mans Unides, the Institution of Social Work, the Social Services Consortium, Apropa Cultura and Municipal Institute of Social Services are some of the institutions that took part in the tribute day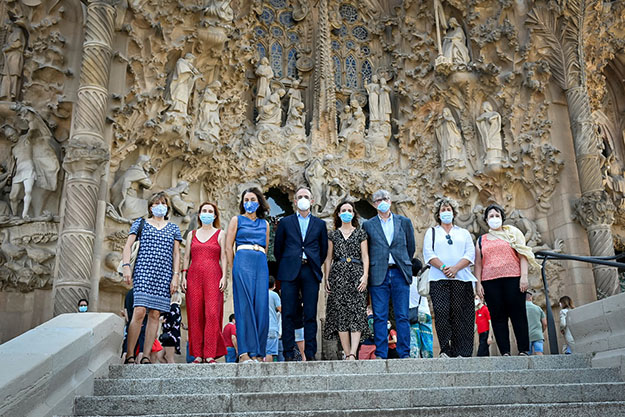 The Sagrada Família has opened its doors once again to pay tribute to the workers and volunteers at social institutions and NGOs that have been attending worse-off people and families affected by the socio-economic fallout of the COVID-19 pandemic. Among the NGOs involved in the tribute, there were Càritas Diocesana de Barcelona and Mans Unides, organisations such as the Institution of Social Work and the Social Services Consortium, social integration institutions such as Apropa Cultura and public bodies such as the Barcelona Municipal Institute of Social Services, among others.
The institutions involved in caring for the worst-off in society wanted to thank the Sagrada Família for the gesture, which comes alongside that of many people who, during the pandemic, have provided support in their work, making it clear that it is crucial to also see to the socio-economic fallout caused by the pandemic and not just focus on public health measures. "There are families who have lost their jobs or have used up the little savings they had during COVID-19, and we predict that work instability will still be on the cards in the coming months," the institutions stated.
The representatives of the institutions involved in the tribute met in front of the Nativity façade of the Sagrada Família some minutes before the doors to the Temple were opened and the workers and volunteers at all of these social institutions were able to visit. Representing the organizations we honor at the event are: Salvador Busquets, director of Càritas Diocesana de Barcelona; Mireia Angerri, Executive Chairwoman of Mans Unides; Núria Menta, director of Social Intervention Services at the Municipal Institute of Social Services; Sonia Gainza, director of Apropa Cultura; Montse Grau, manager of the Institution of Social Work; Maria Rosa Monreal, president of the Association of Educators and Social Educators of Catalonia and Pep Guasch, participation technician, universities and projects of the same school.
Publish Date

7/11/20