Asset Publisher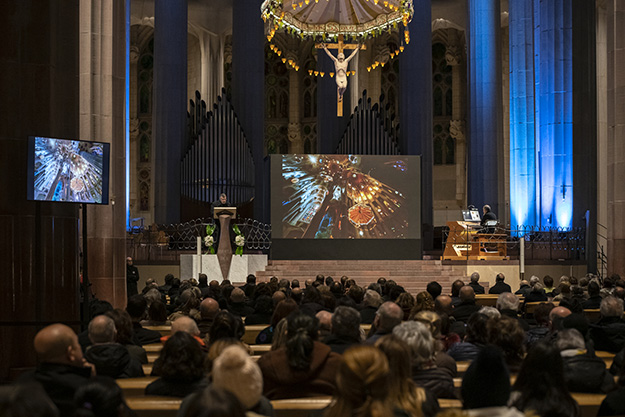 The Sagrada Família once again participated in Bible Week, now in its fourth year. This time, the temple hosted a biblical meditation on the inside of the nave, led by Dr Armand Puig, rector of the Ateneu Universitari Sant Pacià, with organ interludes by Juan de la Rubia. The event took place yesterday.
The title of the meditation was "La Basílica de la Sagrada Família. La nova Jerusalem" (The Basilica of the Sagrada Família. The new Jerusalem), joining those held in recent years focusing on the sacristy, Nativity façade and Passion façade. The event was led by Mons. Sergi Gordo, auxiliary bishop of Barcelona, and also featured pictures of the nave.
This year, Bible Week began on 26 January, the Sunday of the Word, and ends on 1 February with a guided tour of the crypt at Colònia Güell, also by Gaudí. The event is sponsored by the Tarraconense Episcopal Conference and is promoted by the Abbey of Montserrat, Associació Bíblica de Catalunya, Centre de Pastoral Litúrgica, Editorial Claret and Ràdio Estel-Catalunya Cristiana.
Publish Date

1/29/20