Asset Publisher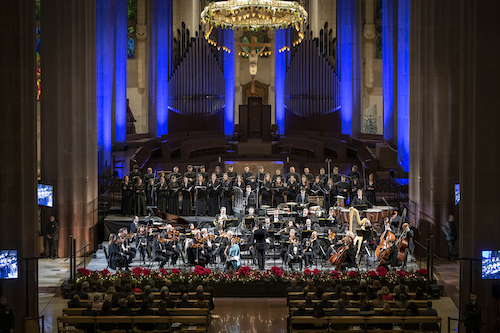 The Basilica filled with music and Christmas spirit with the traditional Christmas Concert. The concert, with Xavier Puig conducting Orquestra Simfònica del Vallès and Cor Bruckner Barcelona, featured a programme of Christmas carols from around the world in three suites: one with carols from Western Europe, another from Eastern Europe and the final section with the most popular, well-known carols.
As we do every year, the Sagrada Família held a draw to give away 500 tickets for 2 among everyone who entered.
When the Christmas Concert let out, the pinnacles of the towers of the Evangelists Luke and Mark (link noti) were lit up for the first time, commemorating the end of construction.
The Christmas Concert is part of the programme the Basilica has prepared to invite citizens to experience the spirit of Christmas and prepare to celebrate the arrival of Jesus. Check out all the activities here.
Publish Date

12/16/22