Asset Publisher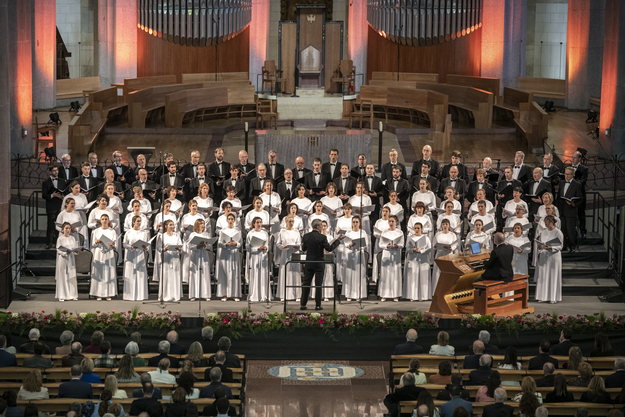 This Sunday 26 March, the Basilica filled with music by Orfeón Donostiarra, a choir institution founded 125 years ago in San Sebastián.
Directed by José Antonio Sainz Alfaro and accompanied by Juan de la Rubia on the organ, the group performed a repertory that included pieces by Handel, Verdi and Mahler, among others, as well as some in Euskera and Basque composer Tomás Garbizu's Ave Maria. They also gave the debut performance of the piece Argi Izpi, by singer/songwriter and Orfeón member Jagoba Astiazaran.
This concert was also possible thanks to the collaboration of TUI experiences, a platform that allows travellers from around the world to book thousands of excursions, activities and tickets for tourist attractions and places of interest in over 100 countries.
The Sagrada Família invited everyone to enjoy this concert, giving out 300 tickets for two through a draw that received entries from 15,970 people using the form available on the Sagrada Família website and social media.
Sagrada Família is Easter
To share the religious, cultural and popular significance of this liturgical season, the Sagrada Família is inviting people to experience Easter by scheduling a variety of religious services and activities from 26 March through 10 April 2023. The programme includes a family workshop and religious services for Palm Sunday, the Paschal Triduum and Via Crucis.
Returning this year, on 3, 4 and 5 April, are the special Easter Week illuminations on the Passion façade, telling the story of the Passion and death of Jesus Christ.
More information on the Easter celebrations at the Basilica of the Sagrada Família is available on this link: https://sagradafamilia.org/setmana-santa.
Publish Date

3/26/23