Asset Publisher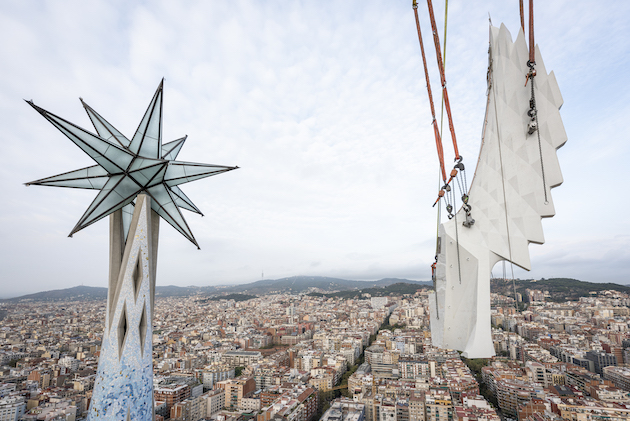 Work started today to put on the sculptural pieces that will top the towers of the Evangelists Luke and Mark, scheduled to be completed this year. As part of the central group of towers, the four towers of the Evangelists will surround the tower of Jesus Christ, standing 135 metres tall once finished, and will be the Temple's third tallest. To identify which evangelist each tower represents, as per Gaudí's designs, the towers will be topped with the corresponding figure of the tetramorph, with the book and wings. These figures have been used for centuries to represent the evangelists in Christian iconography, art and architecture. Specifically, the tower of Luke will be topped with a sculpture of an ox and the tower of Mark, a lion.
This week, the two wings will be put on the figure of the tetramorph that will top the tower of the Evangelist Luke. This element, which is the same on all four towers, is an elliptical hyperboloid that is nine metres tall, in white cement. The wings are made of cement with highly complex geometrical steel reinforcement, with outstanding quality and strength.
Over the coming weeks, work will continue on the tower of Luke, putting in place the book and, finally, the figure itself, in this case the ox. Then the works will turn to the tower of Mark, following the same procedure: first the wings, then the book and finishing with the lion figure. The works are carried out with the scaffolding currently covering both towers, which will be removed in December as the installation of the sculptural pieces progresses.
As announced in the press conference in September, these two towers will be lit up for the first time on 16 December, as the traditional Basilica of the Sagrada Família Christmas Concert lets out.
Publish Date

11/3/22