Asset Publisher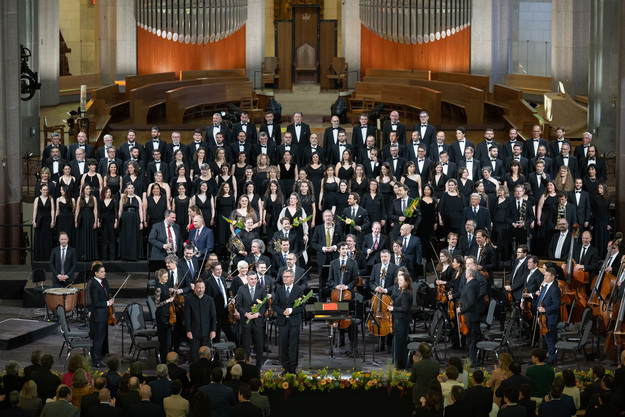 The Basilica filled with music from the Berliner Philharmoniker, one of the most important symphony orchestras in the world. Conducted by Chief conductor Kirill Petrenko, the ensemble performed a repertory including Symphony No. 25, one of the most well-known pieces by composer Wolfgang Amadeus Mozart, and his coronation mass. The orchestra was accompanied by soloists Louise Alder, Wiebke Lehmkuhl, Linard Vrielink, Krešimir Stražanac and the Catalan Choral Society (Orfeó Català).
To bring culture to the people and share the experience of international cultural performances at the Basilica, the Sagrada Família gave out 1,200 tickets to the dress rehearsal on 30 April and 200 tickets to the concert on 1 May. In total, 21,779 people entered the draw using the form available on the Sagrada Família website and social media.
Since 1991, the Berliner Philharmoniker has performed a "Europakonzert" (European Concert) every year on 1 May to commemorate the founding of the orchestra and to celebrate the unifying spirit of Europe. Each year, it takes place in a different Euroean city and is broadcast in over 30 countries around the world. They choose historically significant locations, such as the Sagrada Família, an architectural benchmark and masterpiece of Antoni Gaudí.
These concerts commemorate the creation of the orchestra as an independent music association in 1882, also a significant year for the Sagrada Família, as that was the year the project to construct the Basilica got started.
Both institutions coincide in their desire to encourage interest in architecture and music.
This concert was also possible thanks to the collaboration of GetYourGuide, a platform that sells travel experiences and tickets to museums and tourist attractions all over the world.
Publish Date

5/1/23