Asset Publisher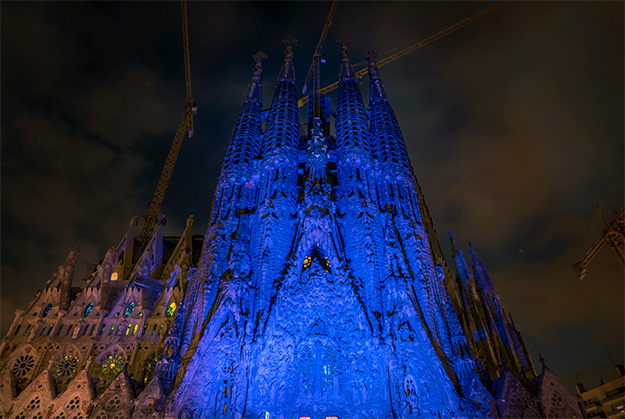 On 12 November, from 8:00 pm to midnight, the Sagrada Família Nativity façade was lit up in blue, joining the World Pneumonia Awareness Campaign "PneumoLight" promoted by the August Pi i Sunyer Biomedical Research Institute.
This initiative aims to boost pneumonia visibility worldwide and raise awareness of the risks of this disease. More than 50 countries all over the world joined in the cause by illuminating various emblematic buildings and monuments. The campaign was also on social media, with the hashtag #PneumoLight.
Sagrada Família lights up three times a year to support various charity initiatives. So far this year, it has been lit up in dark blue on 12 May for International Fibromyalgia and Chronic Fatigue Syndrome Awareness Day and in yellow on 3 July for Awareness Day for Rubinstein-Taybi Syndrome.
In addition to these three illuminations, like every year, the Sagrada Família also took part in Earth Hour on 26 March by switching off the Nativity façade completely between 8:30 pm and 9:30 pm.
Date of publication: 10/11/2022
Updated: 13/11/2022
Publish Date

11/13/22