Asset Publisher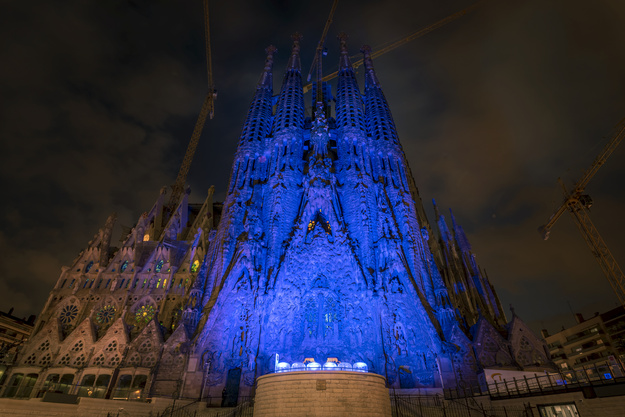 The Sagrada Família will support several charity causes by illuminating the Nativity façade on three occasions. This year they will take place in May and June, from 9:00 pm to 12 midnight.
The first will be on 5 May, bathing the façade in blue and purple to support the fight against Huntington's Disease. The whole month of May, there will be an international campaign called 'Light it up for Huntington's Disease' for awareness month. This year the Catalan Association of Huntington's Patients is celebrating its 25th anniversary and this action also symbolises all the families they have supported over the years who are living with this incurable neurodegenerative disease.
On 8 May, the Sagrada Família will join World Red Cross and Red Crescent Day, lighting the Nativity façade in red. Each year, on the anniversary of the birth of the organisation's founder Henry Dunant, this day is celebrated around the world to raise awareness of all the people who work with this institution.
The final illumination will be on 2 June 2023, World Day to Fight Myasthenia Gravis, with the façade bathed in green to support this chronic condition, considered a rare disease of unknown origin that affects nearly 15,000 people in Spain.
The Sagrada Família also plans to take part in Earth Hour on 25 March, switching off all the lights on the Nativity façade and the star on the tower of the Virgin Mary from 8:30 pm to 9:30 pm. This way, once again this year, the Temple is joining one of the biggest environmental movements in the world that mobilises millions of people, companies and institutions in over 200 countries.
Publish Date

2/21/23