Asset Publisher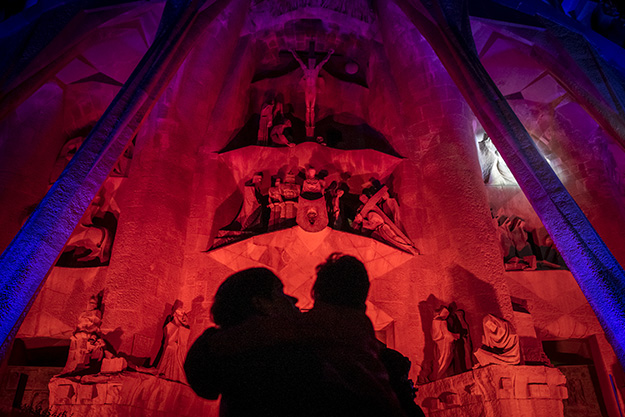 In order to keep up the tradition of this event, which is very popular with residents in our neighbourhood, the Sagrada Família decided to show the recording of last year's illumination of the Passion façade, free for everyone. More than 20,000 people attended the sessions of this illumination last year, over Easter week.
This experience was available from Monday 6 April at 8:00 pm. On the Sagrada Família YouTube channel, anyone interested could watch the video summary of last year's event. With music and narration, the show followed the scenes on the Passion façade through which sculptor Josep Maria Subirachs tells the story of the final days of Jesus' life.
Plus, with the hashtag #viulaSagradaFamília, people could comment on what they were feeling and experiencing while watching the show. The contents posted specially for these days were available for free to all through Easter Monday. More than 60.000 people watched the illumination of the Passion façade from their homes these days.
Easter masses, from the Barcelona Cathedral
Additionally, on 9, 10 and 11 April, days known as the Paschal Triduum, the Barcelona Cathedral held its celebrations commemorating the Passion, Death and Resurrection of Jesus Christ. The masses were streamed live on the Sagrada Família website.
Specifically, these were the mass of the Lord's Supper on Maundy Thursday at 6:30 pm, the Passion of the Lord at 5:00 pm on Good Friday and the Easter Vigil on Saturday 11 April at 7:00 pm. Plus, the Barcelona Cathedral also hosted Palm Sunday mass and Easter Sunday mass both at 12 noon.
All of these celebrations were led by Cardinal Joan Josep Omella i Omella, Archbishop of Barcelona and current president of the Spanish Episcopal Conference (SEC), and streamed live online.
Publish Date

4/14/20