Asset Publisher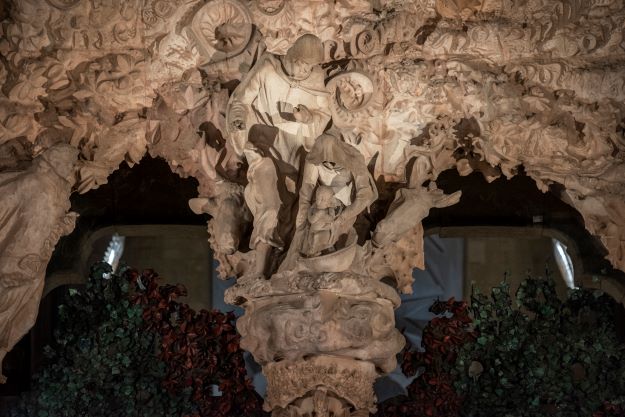 Once again this year, the Sagrada Família offered a Christmas workshop for kids aged 6 to 12 and their guardians. This year's workshop, which welcomed over 600 participants in 40 sessions, included a tour of the Basilica, a discovery game and a handicraft activity to make a star-shaped candle holder from die-cut cardboard.
Plus, the Basilica lit up the sculpture groups of the Nativity, the Adoration of the shepherds and the Adoration of the Magi on the Nativity façade from 16 December to 8 January, from 6:00 pm to 10:00 pm.
On Friday 16 December at 7:30 pm, the Basilica filled with music and Christmas spirit with over 1,900 people enjoying the traditional Christmas Concert. This year, it featured Orquestra Simfònica del Vallès with Cor Bruckner Barcelona. Conducted by Xavier Puig, they performed a selection of Christmas carols from all over the world.
When the Christmas concert let out on 16 December, the pinnacles of the towers of the Evangelists Luke and Mark were lit up for the first time, commemorating the end of construction. The towers are topped with their respective winged figures of the tetramorph with the book of the Gospel: an ox for Luke and a lion for Mark, as is traditional in Christian iconography. They were lit up every evening from Saturday 17 December through 8 January from 6:00 pm to 10:00 pm.
On Tuesday 20 December at 6:30 pm, the Sagrada Família hosted a carolling session on Carrer de la Marina, in front of the Nativity façade, with more than 300 kids from the children's choirs and musicians at five municipal music schools in Barcelona. The children's choirs from EMM Can Fargues, EMM Can Ponsic, EMM Eixample – Joan Manuel Serrat, EMM Nou Barris and EMM Sant Andreu – Mestre Pich Santasusana sang Christmas carols from all around the world for over a thousand people.
Once again this year, on 24 December at 7:00 pm, the Sagrada Família hosted a Midnight mass for the little ones to celebrate Christmas. The service was led by Mons. Sergi Gordo, auxiliary bishop of Barcelona, and afterwards mass-goers went outside for the adoration of the baby Jesus on the Nativity façade.
Finally, from 28 to 31 December, the Basilica of the Sagrada Família took part in the Festival de la Infància (Children's Festival) with the workshop "We're building the towers. Want to help?", where 930 children got the chance to be builders for a day through a learning experience focusing on the central towers and making a replica of the star that tops the tower of the Virgin Mary, which they took home as a souvenir, and a vest.
Publish Date

1/9/23