Asset Publisher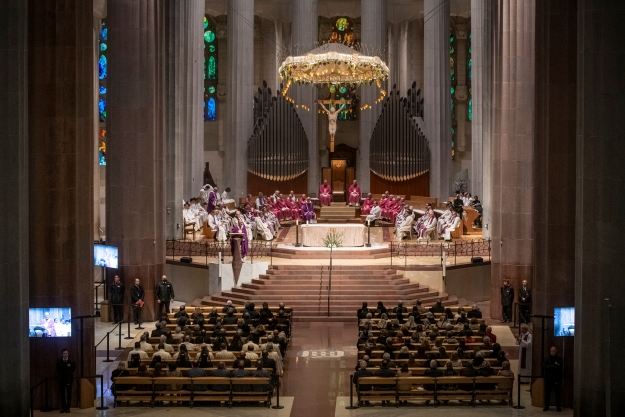 Today, at 5:00 pm, the Sagrada Família hosted a funeral mass for the eternal rest of Pope Emeritus Benedict XVI, who consecrated the Basilica in 2010. More than a thousand people attended the service, praying for the eternal rest of the Pope Emeritus.
The mass was led by Cardinal Joan Josep Omella i Omella, Archbishop of Barcelona, with Cardinal Lluís Martínez Sistach, Archbishop Emeritus of Barcelona, and accompanied by auxiliary bishops Mons. Sergi Gordo and Mons. Javier Vilanova. The funeral mass was attended by Albert Batlle, fifth deputy mayor; Carles Armengol, director-general of Religious Affairs; Dr Josep Antoni Rom, rector of Ramon Llull University; and Baldiri Ros, vice-president of Foment del Treball.
In the homily, the Cardinal highlighted that Benedict XVI had "great intellectual powers he developed to the extent of being recognised as a great master," recognising he was able to "lead a true dialogue between faith and culture in our time." Finally, he prayed for the eternal rest of the Pope Emeritus, asking him, "from the window of heaven, to bless us all and intercede before the Lord to keep our faith strong and make us all brave, humble apostles of the Gospel."
The full homily is available HERE.
Publish Date

1/7/23