Asset Publisher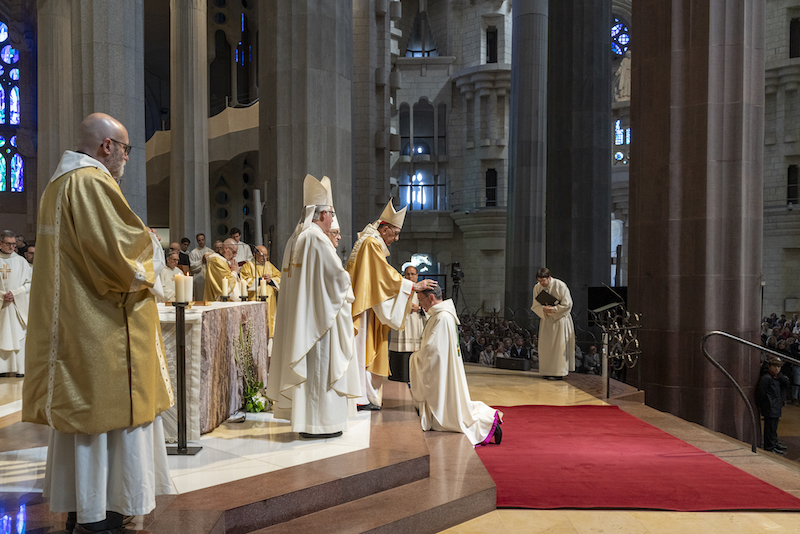 Mons. David Abadías Aurín was ordained a bishop in a service at the Basilica of the Sagrada Família led by Cardinal Joan Josep Omella i Omella, Archbishop de Barcelona. The episcopal ordination also featured fifteen bishops as con-celebrants, including Mons. Joseph Àngel Saiz Meneses, Archbishop of Seville; Mons. Salvador Cristau, Bishop of Terrassa; and Archbishop Emeritus of Barcelona, Cardinal Lluís Martínez Sistach.
In his first words as Auxiliary Bishop of Barcelona, Mons. David Abadías addressed the members of the Church in Barcelona: "I am who I am thanks to the strength of God and all of you here," and thanked everyone who could attend or who has marked his life, saying to them: "You are a gift from God."
For his part, Cardinal Joan Josep Omella, in his homily, called on the new prelate to "Serve God and serve his brothers and sisters, especially those most in need, and to do so with love and joy. It isn't about rank or responsibility, mundane aspirations, but following the example of Jesus Christ, the Son of God."
Also present at the service, which began at 11:00 am, was Director General for Religious Affairs Carles Armengol, among other secular authorities. The new bishop's family was also present, as were the faithful with numbered tickets. To ensure everyone could see, there was a large multimedia roll-out. The event was broadcast live on Ràdio Estel and Radio María and streamed live on the Archdiocese and Sagrada Família websites.
Biography of the new bishop
Dr David Abadías i Aurín was born in Barcelona on 31 July 1973. He has a degree in Theology, specialising in the Scriptures, from the Faculty of Theology of Catalonia, and in History of the Church from the Faculty of History and Cultural Heritage of the Church at the Pontifical Gregorian University in Rome. He has a PhD in the History of the Church from the Pontifical Gregorian University in Rome.
The bishop-elect was ordained on 13 December 1998. His priestly ministry has been in the Diocese of Terrassa. He is currently archpriest of Mollet del Vallès (Diocese of Terrassa) and rector of the parish of Sant Vicenç (Mollet del Vallès, Diocese of Terrassa).
He was dean of the Antoni Gaudí Faculty of History, Archaeology and Christian Art (FHEAG) from 2016 to 2020, professor of Medieval Church History (FTC and FHEAG), of Methodology and Historical Sources (FHEAG) and of Culture and Christianity in the Modern and Contemporary Ages (FHEAG). He was head of the Church History Department at FTC (through 2014) and head of Publications for the FTC and FHEAG, as well as academic coordinator of the FHEAG (through 2016).
He has published a brief history of the Church in the Middle Ages (Breu història de l'Església a l'edat mitjana (Instrumenta 1), Barcelona: Facultat d'Història de l'Església, Arqueologia i Arts cristianes Antoni Gaudí – Facultat de Teologia de Catalunya, 2015.) And a book on the Spanish theologians during the reign of Mary I of England (Los teólogos españoles en el reino de María I Tudor de Inglaterra. La influencia de cuatro teólogos españoles durante el reino de María I Tudor de Inglaterra (1553-1558): fray Bartolomé de Carranza, fray Alfonso de Castro, fray Bernardo de Fresneda y fray Pedro de Soto (Studia Historica Tarraconensia 1), Barcelona: Facultat d'Història de l'Església, Arqueologia i Arts cristianes Antoni Gaudí – Facultat de Teologia de Catalunya, 2015.)
Publish Date

3/25/23