Asset Publisher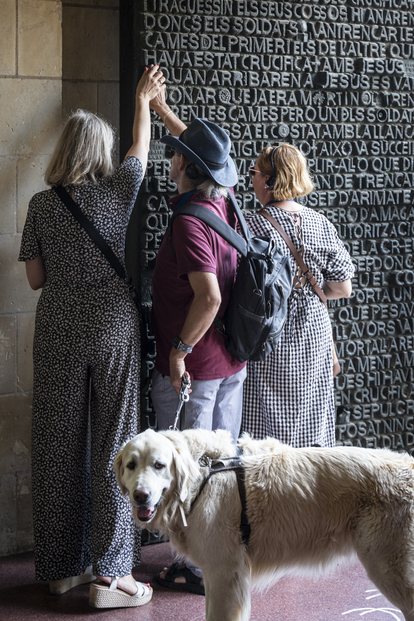 For International Day of Deafblindness, the Basilica of the Sagrada Família, with collaboration from the ONCE Foundation, organised a guided tour for this group in order to open the Basilica doors to all and give everyone an equal opportunity to discover the Temple.
The visit began in the cloister of Our Lady of Montserrat, where they discovered the Temple and its unique geometries and shapes through several tactile pieces in plaster, stone and other materials with relief to promote a better understanding of the Temple project. The tour continued on the Nativity façade, where they got to touch the bronze doors, turtles and bars on the central column. Afterwards, they discovered the nave, where they got to touch a model of the Temple's general floorplan, and then finished up the visit on the Passion façade, touching the letters on the Doors of the Gospel and the base of the flagellation sculpture.
The Department of Culture and Social/Educational Actions has hosted other activities in collaboration with the ONCE Foundation previously, so the Basilica has materials adapted to this group.
Publish Date

6/27/23