Asset Publisher
Sagrada Família celebrates Sant Jordi inviting anyone named Jordi or Jordina from all over the world to visit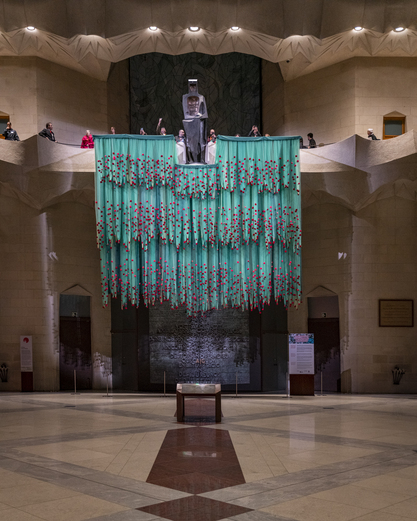 Sant Jordi is one of the most popular holidays in Catalonia. Each year, the Sagrada Família shares in these important festivities with various activities and participative projects associated with cultural and social actions: from a night-time tour of the Temple to an artistic creation on the Jube balcony and workshops.
Plus, to celebrate Sant Jordi, on 23 April everyone celebrating their Name Day on this special day was invited to visit the Basilica. So, on the feast day of Sant Jordi, 3,390 people called Jordi or Jordina from all over the world visited the Basilica for free with a guest.
Night-time guided tour on the eve of Sant Jordi
Once again this year, the Sagrada Família offered a special after-hours tour of the Basilica on the eve of Sant Jordi. On 22 April, 180 people got the chance to enjoy the amazing evening light at the Temple. The lucky participants were chosen by draw from the 27,232 people who entered.
Plus, on the eve of Sant Jordi, the Basilica unveiled special decorations on the Jube balcony, home to the sculpture of Saint George created by Josep Maria Subirachs, featuring an artistic creation by Associació Art-Teràpia Artenea.
Sant Jordi at the Sagrada Família with charity roses
Another noteworthy activity for the Sant Jordi festivities this year was "The Temple of Light" workshop/tour. On 17 and 18 April, the Basilica offered this workshop for the members of the social association El Lloc de la Dona. This activity aimed to raise awareness of the Temple among at-risk groups so they could experience it first hand.
So, "The Temple of Light" guided tour gave participants the chance to discover the importance of light and its meaning full of hope and vitality. Then they took part in an art workshop, creating stained-glass windows inspired by the rose of Sant Jordi.
Plus, El Lloc de la Dona, through its Dona Kolors social workshop, made the Sant Jordi charity roses for the Sagrada Família, which were hand sewn.
Publish Date

4/24/23